Beans 'n' Greens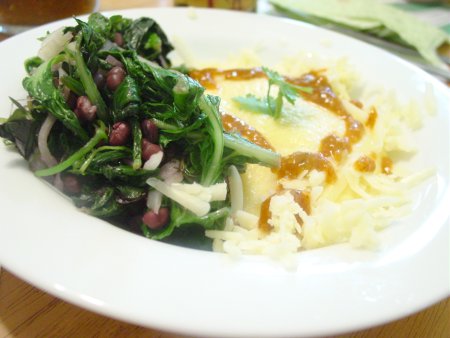 We stir-fry the "stir-fry mix" from the local farmers' market with onion and adzuki beans and serve as part of a Mexican-inspired meal. Using ingredients in our pantry and fridge, the "asian greens and beans" leap over the Pacific ocean, so to speak, for an easy vegetarian dinner. Of course, substituting chopped chard leaves and black or pinto beans would also be nice.
Ingredients
We start by cleaning the small leaves of the stir-fry greens early in the day and then storing the dry leaves in the fridge in large resealable plastic bags.
We heat the oil over medium heat in a large cast-iron skillet and add the onion. The skillet had also been used in the same meal to roast garlic (for the accompanying salsa), providing a little additional flavoring. We cook the onions, stirring often for about 5 minutes. We want the slivers of onion to soften and get lightly browned.
Next, we add the washed greens and toss with tongs. We want them to wilt and get infused with the onion. The mixture is sprinkled with salt and then the beans are added. We continue to cook, stirring, for a few minutes until the beans are hot and the greens are tender.
We serve the beans and greens over cheesy polenta, sprinkled with cheese, salsa, and cilantro.