Spinach Artichoke Dip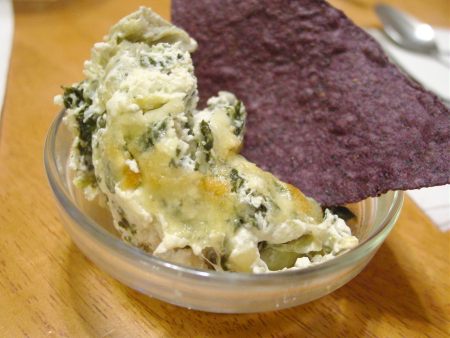 Our son loves a gooey spinach artichoke dip and so we attempt to recreate one of his favorite appetizers. This version is loaded with spinach and artichoke hearts and it is easy since we start off with frozen vegetables. It is hot and cheesy and gooey, though not as creamy as some places—his only complaint was that the artichoke hearts were still too big! Next time we will try pulsing them in a food processor after they are defrosted.
Ingredients
We start by preheating the oven to 375° F. The frozen spinach and artichoke hearts are put in a large microwave safe bowl, covered with plastic wrap, and cooked for 3 minutes. We want the spinach and artichokes to be defrosted and warm. We spoon the mixture a little at a time into a "ricer" and squeeze the liquid from the vegetables into a garbage bowl. The dry spinach and artichokes and placed on the cutting board. We continue until all the defrosted vegetables are used and then we coarsely chop them on the board.
On a microwave safe plate, we put the cream cheese block, discarding its foil wrapper. We cook in the microwave for 30 seconds and then 30 more seconds. We want the cream cheese softened but not melted.
We combine the cream cheese, mayonnaise, parmesan and romano cheeses in a large clean bowl (we clean the bowl the veggies had been microwaved in). We stir well and then squeeze in the garlic clove using a garlic press. We also add the dried basil, salt and pepper. Finally, the spinach and artichokes are added and mixed well. We taste for seasoning and adjust.
We spray our 9-inch glass pie plate with olive oil using our "Misto", pour in the cheesy mixture, spread with a spoon, and then top with the mozzarella.
We bake the dip for about 30 minutes until it is bubbling and golden brown on top. We serve on a trivet with chips.