Vitamin E Pancake Dinner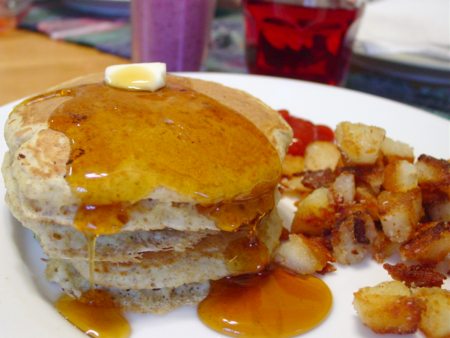 We get back into the swing of things with a pancake dinner. We were able to get some groceries last night – mostly staples and fruit. With a pantry approaching full capacity, we enjoy buttermilk pancakes (with wheat germ, of course) and some fruit smoothies.
Our son has finally started to recover from his bout with illness. He slept through the night and had more happy moments than unhappy ones today. He even gave dad and big sis a hand making dinner.
Aside from our son's recovery, the other big news today was the addition of a recipe to the cookbook. With the head chef greatly pregnant, we have been slacking. After doing this for three years, we have come to expect that we will add at least 10 recipes a month. Wonder how we'll do next month.
The new recipe is a fruit smoothie. We have been enjoying weekend breakfasts at Eggspectations for a month or two now. Along with one of their signature egg dishes, we usually get pancakes and a fruit smoothie called "pink perfection". We do not try to copy the pink perfection here, due to lack of ingredients, although it is pink! The kids love the smoothies, denying their parent more than a couple sips apiece.