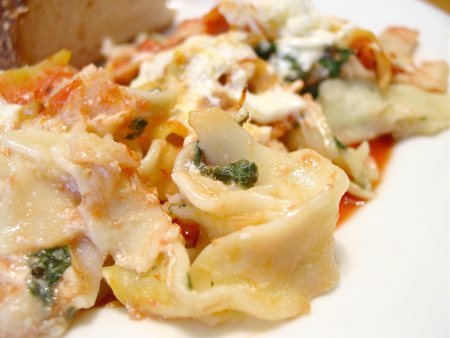 Certain meals reflect the life in which they are made. Bits and pieces from different times and different company interweave, making the moment special both for the present and for the times that build up to the moment. In other words, it's leftovers tonight.
We took our semi-annual trip to Brooklyn Sunday to visit Nanny and Gramps. This was the first visit for the new baby, which was bound to make the trip eventful. We left early, stopped at Cracker Barrel along the way and made it to Brooklyn before 10. Greta slept the entire way and the kids did rather well, listening to music and watching movies in the minivan.
Despite admonishing Nanny to go to no trouble on account of our visit, Nanny still made ravioli with all sorts of meat in the "gravy". She didn't care much for the ravioli, believing the edges were too stiff – "it's a shame". We still liked it very much. No matter how practiced we might become at cooking, there is still something special about Nanny's kitchen.
The trip back was not nearly so nice. Greta cried quite a bit. The only thing that made the trip bearable was the peculiar lack of traffic. As has become habit for us on our return trip, we stopped at McDonald's and Whole Foods east on Exit 4 off the turnpike. The kids get Happy Meals from the former and we get a wrap or hit the salad bar from the latter. We love that area – affectionately referring to it as "Heaven on Earth". Being New Jersey, that may not be an apt description, but after driving for four hours in the morning plus two more in the afternoon, finding a Whole Foods Market is a thin slice of heaven.
We made it home in time for regular bed times – something we normally do not manage to accomplish. We all slept well last night, but surprisingly, the baby most of all. Since the 15th, she's been only waking for a single feeding between 2 and 4. Last night, she slept from 10 until 8 this morning. The extra sleep was most welcome.
Tonight's meal uses the Caputo's bread Nanny and Gramps gave us as inspiration. We just can't get bread like that anywhere else. When we do get it, especially when fresh, we must do pasta. We use up the mafalde from a week and a half ago (it was frozen, of course), baked in a lasagne-like dish – adding quick tomato sauce and mozzarella. It was quite good.