Chicken Soup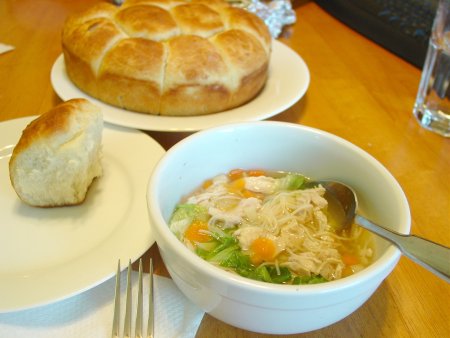 We continue to be ravaged by the flu. Tonight, we serve chicken soup in hopes that it may provide some comfort. We needed something to go along with it and, since we had no bread in the house, Robin used some down time to bake up some quick rolls.
Our son brought the flu home last week and ran a fever all the way through the start of this week. He started feeling better Tuesday—the same night our daughter complained of a bad earache. Both girls had it the next morning.
Our son went to school today, but his big sister certainly did not (she barely got out of bed). To allow the girls extra time to rest, Chris picked our son up from school today. On the way home from school, the men stopped off to get haircuts.
Hopefully the flu season will end soon. This is our first bout with it this year, but, after the last two weeks, we can safely say that one bout is enough. Even with chicken soup.