Alaskan King Crab Legs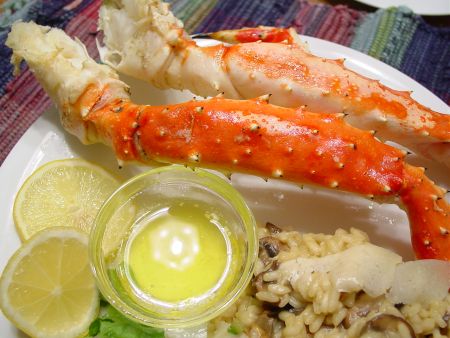 This is a traditional New Year's Eve meal in our house. We bake the crabs, which had been bought frozen. We serve with a little melted butter and lemon, but the crab really stands out on its own. Feel free to throw another stick of butter into the pot if more dipping butter is desired.
Ingredients
We begin by pre-heating the oven to 400 degrees. In a small pot we melt the butter with the garlic and a pinch of salt over low heat. We then add the lemon juice and keep the pot on very low heat.
We put the frozen crab legs exposed crabmeat up into two 9 by 13 inch pans and brush them all over with the melted butter-lemon juice mix. We put the pan carefully in the oven, the legs are BIG, and bake for about 30 minutes brushing the exposed crabmeat a couple of times with the butter mixture. We want the crab legs to be heated through. We do not use all of the butter, we have about 4 or 5 tablespoons of butter remaining which we divide among small prep bowls. We serve the legs with the butter for dipping.