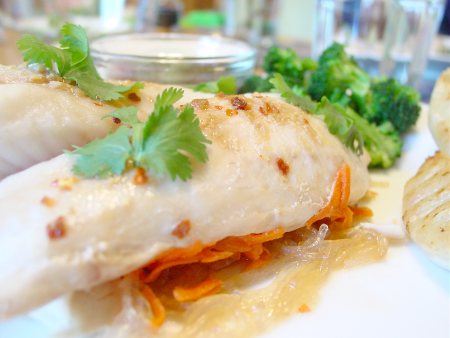 We are inspired by one of our earliest cookbooks to create an asian-themed "fish in a packet." We use aluminum foil to bake individual servings of fish, noodles, and vegetables – a complete meal in a package with little clean-up. The soaked cellophane noodles are at the base, and they are topped with quick-cooking shredded carrots, scallions, and baby corn. The noodles and vegetables serve as a bed for fresh tilapia and a ginger-soy-lemon sauce completes the package. All of the flavors combine when baked for an easy, healthy, fish dinner.
We begin by preheating the oven to 450° F. We put our teakettle, filled with water, on high heat and place the bundle of cellophane noodles in a medium bowl. When the water is almost at a boil, we pour the hot water over the noodles to cover. We set this aside while we prepare the vegetables.
We peel and trim our carrot and then grate with the coarse side of our 4-sided grater. This yields about 1 cup of carrots, which we place on a large dinner plate. We rinse and trim our scallions and then slice. We put these on the plate as well, with the whole baby corn spears.
In a prep bowl, we get ready our sauce ingredients. We rinse, pat dry, and then peel our ginger with our chef's knife. Using the microplane, we grate the ginger directly into the prep bowl. We also put our garlic clove into a garlic press and press this into the bowl as well. We stir in the soy sauce, sesame oil, and lemon juice, and set aside.
The cellophane noodles have softened so we drain and rinse them with cold water. With kitchen scissors, we cut up the noodles into smaller pieces.
We take four large pieces of aluminum foil and fold each of them in half to make an approximate 12 × 12 inch square. We divide the canola oil between them, smearing the oil onto the center of each square. We top each with some of the cellophane noodles, carrots, scallions, and corn. We spoon on about half of the sauce, divided between the four portions. We top each with a fillet of fish and then spoon on the rest of the sauce and sprinkle with the red pepper flakes.
We fold the foil into airtight packages and place on a cookie sheet. We bake for 20 minutes until the fish is cooked through, the vegetables are tender, and the noodles have absorbed the wonderful flavors of the sauce and fish. We carefully open the packages and transfer to dinner plates. We serve garnished with cilantro.