Strawberry and Orange Salad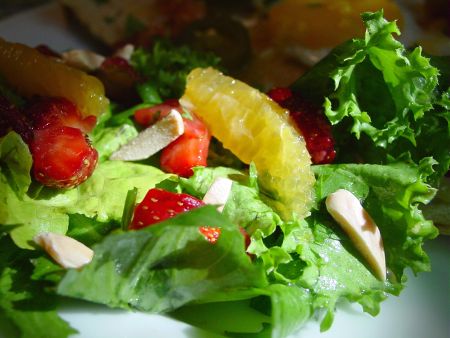 We purchased an Orange Muscat Champagne Vinegar recently at Trader Joe's. To try it out, we make a peppery, fruity vinaigrette, which we toss with a salad of spicy mixed baby greens and cilantro, crunchy almonds, and sweet fruit. The vinegar is yummy, even without oil (although we do add a little here for flavor). It pairs well with the fruit, greens, and nuts.
Ingredients
2

cups

mixed baby greens

lettuce

2

tablespoons

fresh, leaves

cilantro

3

tablespoons

slivered

almonds

2

medium

scallions

1

tablespoon

Orange Muscat Champagne

vinegar

salt & pepper

1

tablespoon

extra-virgin olive

oil

1

navel

orange

½

cup

strawberries
We cleaned the greens ahead of time with our salad spinner [howto:salad]. We remove them from the fridge and put in a large bowl with the cilantro leaves.
We put the almonds on a piece of foil and place in the toaster oven. We cook at 350 degrees for a few minutes until the nuts are fragrant and lightly browned. We set aside to cool.
We trim and slice the scallions and add to the bowl. Next, we make the vinaigrette in a resealable plastic container. We add the vinegar and a little salt and pepper and stir with a fork. We add the oil and shake, put the lid on, and shake to combine. We taste for seasoning and tartness on a lettuce leaf.
We toss the greens and scallions with the dressing and then add the fruit and nuts. We taste again, add a little more salt and freshly ground black pepper and serve.