Pasta with Coconut Curry Clam Sauce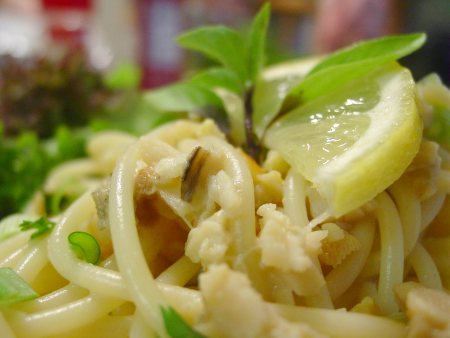 Based on our old-standby,
Linguine with Clams
, we use Thai red curry paste and unsweetened coconut milk for an Asian-influenced pasta with clams. The resulting dish is fragrant, spicy, and different (in a good way!). We could have used Asian noodles, but we opt for spaghetti since our kids wanted spaghetti with tomato sauce for their dinner.
Ingredients
We start by heating a large pot of water for the pasta. In a large pan, we add the oil and ginger and place over medium heat. While the ginger begins to cook, we smash the garlic cloves with the side of our knife (carefully) and remove the peels. We sprinkle the cloves with salt and mince. We add the minced garlic to the ginger. Next we add the red curry paste and stir. Using the microplane, the zest of the lemon is added directly to the pan, and we set the lemon aside to finish the sauce. Finally, we add the well-shaken coconut milk and juice from the 2 cans of clams (though not the clams just yet). We stir well and bring to a boil. Then we lower the heat and simmer gently while we cook the pasta.
When the pot of water comes to a boil, we add the spaghetti and some salt and stir. We cook according to the package directions.
When the pasta is almost done, we chop the fresh herbs and slice the scallions on an angle. Then we add the chopped clams to the coconut curry sauce and raise the heat to medium again. We drain the pasta in the colander and put it back in the empty pot. We taste the sauce for seasoning, shut off the heat, add the juice from the reserved lemon, and pour the sauce over the spaghetti. We toss well with some of the herbs and scallions and plate each portion topped with some more.