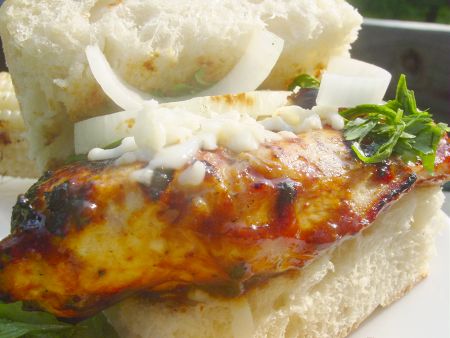 We use the same elements of a barbecue chicken pizza to make a tasty sandwich. While the chicken and vegetables grill, we heat the bread with some of the cheese, for an extra-special touch.
We start by preheating our gas grill to medium heat, and preheating the oven to 350° F.
We rinse our chicken cutlets and place between two pieces of wax paper. The pieces are inspected and any fat or tough membranes are removed with scissors. Using the flat side of our meat pounder, we flatten the chicken pieces slightly to even out their thicknesses and lessen their cooking times. We place them on a dinner plate and wash our hands well. We pour on a tablespoon of the oil and sprinkle with salt and pepper. We turn with tongs to coat well, then wash the tongs thoroughly.
On another dinner plate, we coat the peppers and onion with another tablespoon of oil.
We grill the chicken and the vegetables on the preheated grill and place the bread in the oven to heat. We have some of the barbecue sauce ready with which we will cook (the rest is reserved for serving) and a pastry brush. The chicken pieces are placed on the grill and, after 3 minutes, we flip each over and brush with some of the sauce to coat. When we flip the pieces over, we are careful to wash the tongs. We are very careful with chicken! After another 2 minutes, we flip again and coat with more sauce. We cook for another minute or two, applying a more generous coating of sauce, and then flip and coat generously again. We allow the breasts to finish cooking until they are cooked through.
Meanwhile, the peppers and onion are turned with clean tongs until softened and browned slightly. When ready, they are placed on a clean plate.
When the bread is heated through, we slice it into nice sandwich chunks and then slice again horizontally. We place some of the cheese inside each to melt in. When the peppers and onions are cooked, we chop them coarsely on a clean cutting board. We also cut the cooked chicken pieces to fit in the sandwiches.
We add the chicken to the cheesy bread along with some of the chopped peppers and onions, some more cheese and a sprinkle of cilantro. We serve with the reserved barbecue sauce (any sauce that is left out by the grill would need to be re-boiled).