Quick Baked Squash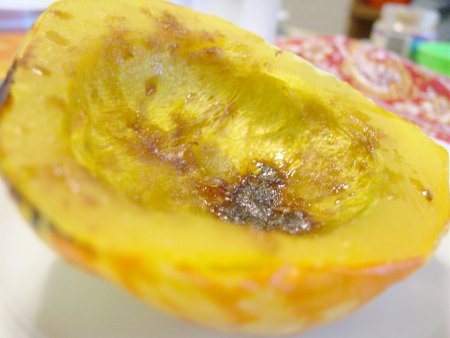 Roasting winter squash is a simple method to cook a nutritious vegetable. The only drawback is that it can take some time in the oven. In comparison to our other baked squash recipes which cook for 1 hour, we can "bake" the squash with the microwave and finish in the broiler in 15 minutes. This recipe was inspired by an article in Cook's Illustrated magazine. We simply glaze the squash with brown sugar for a low-fat, easy side dish. In the future, we might also try adding butter, other sugars or seasonings.
Ingredients
1

large

acorn

squash

1

teaspoon

light

brown sugar
We start by rinsing and patting the squash dry. Carefully, we halve lengthwise, using a combination of the flat side of our wooden meat pounder and our chef knife to get through the thick skin (we hit the knife with the pounder to help get through). We scoop out the seeds with a spoon, reserving them for roasting later on. We put the squash halves cut side down in an 8 inch by 8 inch microwavable roasting pan, add ¼ cup water, and cover with plastic wrap. We poke a couple of holes with a knife to vent the steam, then put the pan in the microwave to cook on high for 10 minutes. We want the squash very tender.
When the squash is almost tender, we preheat the broiler. When the squash is done, we carefully remove the plastic wrap and then remove the squash from the bowl with tongs and place flesh-side up on a foil-lined cookie sheet. We sprinkle with brown sugar and broil for a few minutes until caramelized.