Vampire Pizza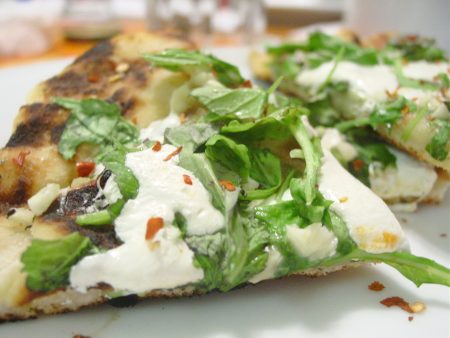 We were inspired by a farmer to top pizza dough with salad greens. We have been purchasing our "spicy greens" at the Baltimore Farmers' Market from "Cat's Paw Organic Farm". We love this salad mix of young lettuces – among them, arugula, tatsoi, and mizuna. He told us that some of his customers were topping their pizza with the greens and one Sunday he brought a white pizza topped with the greens for sampling. For this Halloween, we decide to grill pizza dough and top with spicy greens, red pepper flakes, and plenty of raw garlic to scare the vampires away! In place of raw garlic, we could have substituted sautéed garlic or roasted garlic for a less pungent flavor.
Ingredients
½

pound

store-bought pizza dough, cold from the refrigerator

dough

all-purpose

flour

1

cup

farmers' market salad mix, arugula, mizuna, tatsoi, red kale, mustard greens

spicy greens

2

cloves

garlic

coarse

salt

¼

cup

extra-virgin olive

oil

1

tablespoon

Parmigiano-reggiano

cheese

¼

cup

fresh mozzarella

cheese

½

tablespoon

fresh

rosemary

red pepper flakes
We preheat our gas grill to medium high heat.
Meanwhile, we divide the dough into 2 portions and stretch to make a thin crust, adding additional flour so that it is not too sticky when we put it on a wax paper lined plate.
We coarsely chop the greens and mince the garlic with a pinch of coarse salt. We get the oil ready in a ramekin and put it on a platter with a pastry brush, a prep bowl of coarse salt, the greens, garlic, cheeses and rosemary. We bring the platter out to the preheated grill along with the pizza dough.
For each little pizza, we coat one side of the dough with oil and place oil-side down on one side of the hot grill. We cook for a few minutes until browned. We spread some more oil on the top and sprinkle with salt. We turn with tongs, still keeping the pizzas on just one side of the grill. We add a little more oil and the toppings of the greens, cheeses, garlic, and rosemary. On the unused (other) side of the grill, we now turn off the heat and then move the pizzas to this cooler part of the grill. We want to melt the cheese and finish cooking the pizzas through.
We serve the pizzas sprinkled with red pepper flakes.