Quite Spooky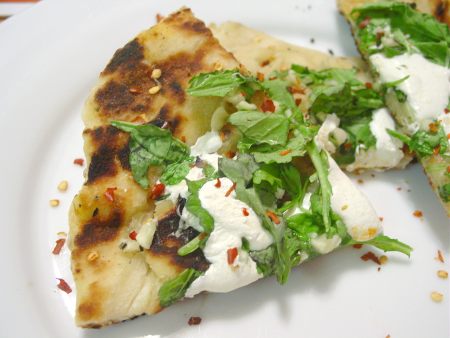 Tonight's dinner helps to ward off the evil Halloween spirits. The secret ingredient? Garlic, of course. Lots of garlic.
Both our daughter and our son get credit for assisting with dinner preparation. Pizza is one of their favorite meals because it provides the opportunity for practical application of their excellent dough skills. Giving them control over the preparation seems to be conducive to getting them to eat, which makes the adults happy. They had a plain pizza—similar to that from our earlier recipe. Just after the kids' pizza was done and while the vampire pizza was grilling, Grammy and Boppy stopped by for a surprise visit. They had thought that we would be getting in costume, but (naturally) we were running a tad late tonight.
The kids were very excited—so much so that they got underfoot, literally. Boppy tripped with a not-very-loud "Whoa!" This caused the baby to scream uncontrollably. She was covered in rasperberries but Chris had to take her out of the high chair to console her. After waffling on their choice of costumes, the kids left the house tonight as a vampire (our daughter) and a fireman (our son). Trick-or-treating began at Aunt Erin's house. Her neighborhood is well known throughout the area as being big into Halloween. It lived up to its reputation tonight. People-sized blow-up spiders, fog machines, spider webs everywhere—it was something. Before returning to our own neighborhood, we made quick stops at Grammy and Boppy's and then Mrs. Fava's (our daughter's pre-school teacher).
Back in our neighborhood, the kids had themselves a blast. Earlier in the day, Mr. Barry had let it be known that he would be stingy with the candy if the Ravens lost. Well, the Ravens lost, but he apparently could not resist the kids.
Yep, it was a pretty good Halloween. And the pizza must have worked—no vampires. Except for our daughter!