Ghost in the Kitchen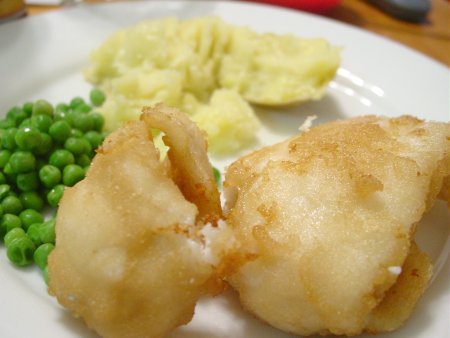 After an afternoon of football-watching, the kids put on their aprons to help with dinner. With apron-ed help, Robin served both plain and fried fish. As hoped, helping with dinner encouraged the kids to eat a complete, healthy dinner.
Calling rice potatoes "wormy potato hair" was enough to get the kids to eat them. Our son would normally try them, if not eat them, but our daughter would never touch them. But both of them did a great job with "wormy potato hair".
Our son ate the fish ghosts. In addition to being appropriate for the season, we were fairly sure that he would eat the fish prepared this way. He prefers his fish rather plain.
The rest of the family had some of the ghost fish as well, but favored the fried fish. Our daughter especially enjoyed them having worked so hard helping to prepare them. The adults enjoyed some malt vinegar with the fried fish. With the potatoes, it was almost a fish `n' chips dinner.
Today was a crummy day, which contrasted starkly with yesterday. It was so nice yesterday that the whole family went through a local corn maze and even did quite a bit of yard work.
Despite today's weather we still ventured to the Baltimore farmers' market. We have found it difficult of late to prepare meals every night. Still we keep trying, which is more than enough reason to keep us going to market every Sunday. Besides, we are finding that the sausage sandwiches and hot dogs at the market are a fine way to begin our Sundays.
And a fish dinner was the perfect ending to it.