First Field Trip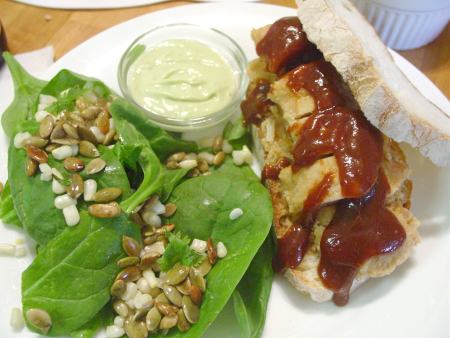 Today, our son went on his very first field trip. His class travelled to Cromwell Valley Park where they learned to make apple cider and cornmeal. They even picked pumpkins from a pumpkin patch. The "bestest" thing was the tractor hay ride.
One of us always goes on these excursions. Chris went today. Robin would have loved to have gone but had to care for the baby. Afterwards, we met for lunch at Panera. By the time the field trip was over, it was rather late.
Chris stayed at work later than normal to make up the time, which meant dinner was later than usual. As a result, we tried to keep it simple. We finished up some chicken from Bubba's, enjoying it on some fresh farmers' market bread. We also had some fresh salad topped with corn niblets and pepitas. We whipped up some creamy dressing to boot. Very tasty.
On a sad note, it has been one week since Robin's Aunt Rosemary passed away. Aunt Rosemary's house was across the street from Robin's when she was growing up—the same house she lived in until the day she died. One of Robin's fond, early memories of Aunt Rosemary was the day she introduced Robin to tea without milk. Robin had never even thought of trying tea that way, but, since her sophisticated aunt drank it that way, Robin gave it a try. She takes her tea without milk to this day.
As anyone who knew her could tell you, Aunt Rosemary epitomized a Brooklyn lady. She was a New Yorker through and through, and infused every conversation with genuine caring and warmth. We are grateful that we were able to spend so much time with her and the she was able to spend so much time with the kids (she met the baby in the spring). We miss her already.