Fish Ghosts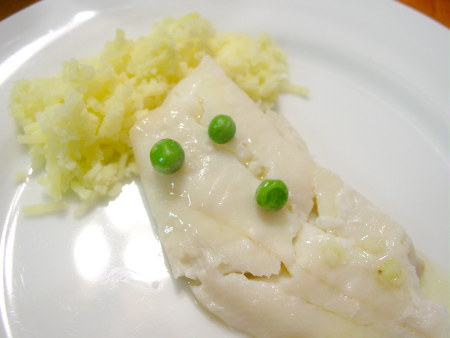 This is a simplified "fish en papillote". We just use cooking spray instead of melted butter or oil since the children like to help with the spray. We do use the traditional parchment paper, but foil could be
substituted
. We do not add other ingredients to the packages since we want the ghosts to be white, but cooking fish in this way is only limited by one's imagination. All the flavor remains in the package and the fish. As it bakes it creates its own sauce. It is unnecessary, but we add to our simple recipe with a quick orange and garlic butter sauce. Since it is a Halloween recipe, we decorate the fish with peas and riced potatoes for
GHOSTS
!
Ingredients
We start by pre-heating the oven to 425° F. We get ready two large pieces of parchment paper, roughly squares, and fold each in half. We open each parchment square and spray lightly with Pam cooking spray. We rinse the two fillets and place just off-center on each piece of parchment. We fold over the un-fished piece of parchment and start making folds, about ¼ inch each, all around the outside of the packet to seal. We try to make sure it is sealed all around so none of the juices escape.
We place the parchment packages on a foil-lined cookie sheet and bake for 15 minutes. Meanwhile, we make a simple sauce. In a ramekin, we place the pat of butter and using our garlic press, add the garlic. We place in the microwave and cook for 20 seconds to melt the butter and infuse the garlic flavor. We set aside. Right before the fish is ready, we briefly reheat the sauce in the microwave and squeeze in ½ tablespoon of fresh orange juice and add some salt and pepper.
When the parchment packages have puffed and are browned, we remove them from the oven. Carefully, we transfer them to dinner plates and use kitchen scissors to open. We serve the fish with the garlic-orange sauce.