Turkey Pasta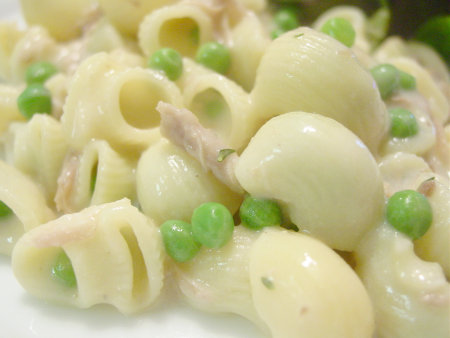 We use leftover Thanksgiving turkey in a creamy, pot-pie-like pasta sauce. It resembles a macaroni and cheese with turkey and peas, but the cheese sauce is a combination of a velouté and a bechamel sauce—a broth and a milk based sauce. The flavor of the turkey shines through. At other times of the year, we can easily replace the turkey with chicken.
Ingredients
1½

cups

cooked, pippette

pasta

½

cup

frozen

peas

1

tablespoon

unsalted

butter

2

tablespoons

all-purpose

flour

¾

cup

homemade, from turkey carcass, (similar to

turkey stock

¾

cup

skim

milk

sprig

thyme

¼

cup

Parmigiano-reggiano, plus more for serving

cheese

½

cup

leftover, cooked, shredded

turkey

salt & pepper

6

scrapings

whole

nutmeg

red pepper flakes
We start by cooking the pasta, most of it will be eaten by the children or reserved for later, but we cook a pound. We also take out the frozen peas to defrost in a bowl on the counter.
While we ready the pasta, we prepare the sauce. In a medium pot, we melt the butter over low heat. We add the flour and cook over medium-low heat for two minutes, stirring with a flat whisk. This butter-flour mixture is known as a roux.
Meanwhile, we heat the milk and turkey stock in the microwave on full power for 1½ minutes. Using our flat whisk, we whisk the heated liquids into the butter-flour mixture and increase the heat to medium, stirring often until it comes to a boil. This takes a few minutes.
When the sauce is boiling, we lower the heat and boil for a few more minutes, stirring well. We add salt and pepper and some gratings of nutmeg made with our microplane. We then remove it from the heat and set it aside until the pasta is almost cooked. When ready, we put back on medium heat, stir in the cheese, cooked turkey, and frozen defrosted peas. When hot, the sauce is mixed with 1½ cups of the cooked pasta. We serve with additional parmesan and a sprinkle of red pepper flakes.