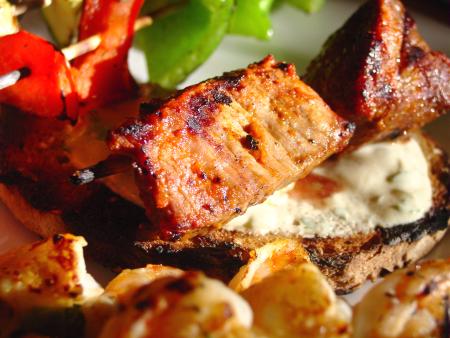 A quick spicy onion rub gives simple sirloin cubes a nice kick for a summertime feast. Smoked paprika provides a smoky flavor which is enhanced by the grilling process. A
yogurt sauce
complements these skewers very nicely.
We start by putting an inch of water in a 9 inch by 13 inch glass baking dish and soaking some wooden skewers for 30 minutes. This will help prevent the skewers from burning on the grill.
We put the sirloin cubes in a large resealable plastic bag and set aside. Meanwhile, we prepare the rub.
With clean hands, we peel the onion and chop it coarsely—we just want it to fit in our minichop. In the chopper attachment of our immersion blender, we put the onion pieces and purée. We have about ¼ cup of minced onion. Next, we smash the garlic cloves with the side of our knife on the cutting board, discard the peels, and add the cloves to the chopper. We sprinkle in salt and pepper, and add the chile powder, smoked paprika and olive oil. We purée.
We add the onion rub to the bag of meat, seal the bag, and then smoosh the mixture around the meat. We set the meat aside while the wooden skewers soak.
The grates of the gas grill are rubbed with an aluminum foil "ball" coated with canola oil. We then preheat the grill.
When the skewers have soaked long enough, we take the coated meat out of the bag, one at a time, and thread onto the skewers. We put 3 pieces to a skewer, leaving a little space in between so that they cook properly, and place on a large plate. When all the meat is on the wooden skewers, we wash up again and take the plate out to the grill.
The meat is cooked for just a couple of minutes per side on direct heat. We want them charred on the outside and still pink on the inside. We check after 5 minutes and, when done, they are removed to a clean platter and served with bread and yogurt sauce.