Romaine Salad with Goat Cheese, Artichokes, and Walnuts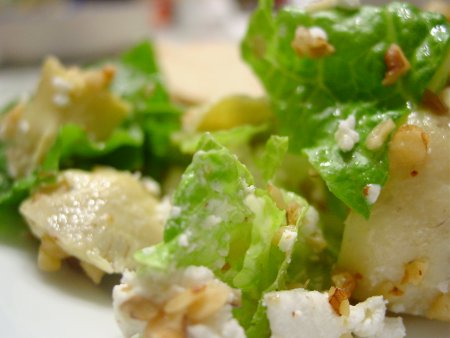 We top crisp lettuce leaves with creamy goat cheese, toasted walnuts, sweet artichokes, and a sharp dressing for a satisfying salad course.
Ingredients
1

can

in water

artichoke hearts

3

teaspoons

red wine

vinegar

½

tablespoon

garlic and herb basting

oil

(Wegmans)

1

clove

garlic

1

teaspoon

Dijon

mustard

salt & pepper

¼

cup

minced fine

walnuts

3

cups

Romaine

lettuce

2

tablespoons

extra virgin olive

oil

3

ounces

goat cheese
We slice the artichokes on a cutting board and then put in a bowl. We toss with 1 teaspoon of the vinegar and the garlic and herb oil. We set aside for 30 minutes to meld the flavors.
Meanwhile, in a resealable plastic container, we combine the rest of the red wine vinegar with the garlic clove, mustard, some salt and freshly ground black pepper. We stir with a fork and set aside.
While the artichokes are marinating, we also spread the walnuts on a piece of foil and heat in the toaster oven at 350° F for a few minutes. We want the nuts fragrant but not burned. We set these aside as well.
We put the cleaned romaine leaves into a large salad bowl. We whisk the extra virgin olive oil into the red wine vinegar and mustard mixture. We remove the garlic clove.
We toss the salad with the reserved artichoke hearts, dressing, walnuts, and goat cheese. We taste and serve with additional salt and pepper.