Fish Chili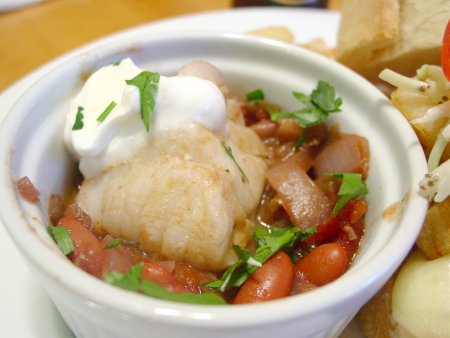 This is an interesting little fish chili, inspired by a newspaper article on a Seattle-themed dish from the "Pike Place Public Market Seafood Cookbook". Although we replace the bacon with olive oil, the resulting thick, wine infused dish is very flavorful and hearty. It is unusual (for us) to have fish in a bean chili (the beans were supposed to be cooked separately and served on the side, by the way), but it is simple and delicious!
Ingredients
3

medium

yellow

onions

1

tablespoon

extra-virgin olive

oil

3

cloves

garlic

salt

1½

teaspoons

mix of ground ancho and ground chipotle

chile powder

½

teaspoon

ground

cumin

½

teaspoon

dried

oregano

1

cup

dry red

wine

29

ounces

2 cans of diced, organic tomatoes

tomatoes

(Muir Glen)

9

ounces

2 cans

chopped green chiles

3

splashes

Tabasco Chipotle

hot sauce

15

ounces

canned, dark red kidney

beans

10

ounces

fresh, wild, Cod loins

fish

sour cream

fresh, Italian-leaf

parsley
We start by heating our Dutch oven over medium low heat. We peel and chop the onions, yielding about 2 and ¾ cup. We add the oil to the pan and begin to cook the onions.
Meanwhile, we peel and mince the garlic with a hefty pinch of salt. We raise the heat on the Dutch oven to medium and, when the onions have been cooking for a little over 5 minutes, we add the garlic. We stir and when the garlic is fragrant (less than a minute) we add the chile powders, cumin, and oregano, stirring for another minute. Then we add the wine.
We drain the tomatoes with a strainer, over a large measuring cup, adding 2 cups of the tomatoes to the pan, and reserving the rest of the tomatoes for serving and the juice for another use. We also add the chiles and some hot sauce.
We bring the chili to a boil, lower the heat, and simmer uncovered for half an hour. It is thick but not too dry, so we drain and rinse the canned beans in a colander and then stir into the chili. We continue to cook for a couple of minutes on medium heat.
After rinsing and patting the fish dry, we remove the skin and any bones we can feel. We then cut it into 1½ inch pieces. Finally, we add the fish to the chili, lower the heat and cover for 5 minutes. We stir and then take off of the heat to finish cooking through without drying out the fish.
We serve the chili with the reserved tomatoes, sour cream and parsley.