Pittsburgh Style Sandwich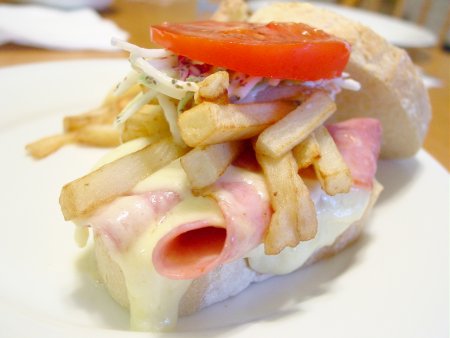 We are inspired by a newspaper article on the Primanti Brothers restaurant in Pittsburgh to make a hearty Superbowl sandwich. We replace the required coleslaw with a quick homemade rainbow salad slaw. The result is a delicious mix of meat, cheese, french fries (!), slaw, and tomatoes between thickly sliced Italian bread. Perfect for a cold wintry day!
Ingredients
½

cup

storebought mix of broccoli hearts, cauliflower hearts, carrots and red cabbage

rainbow salad

½

tablespoon

light

mayonnaise

(Hellmann's)

½

teaspoon

apple cider

vinegar

¼

teaspoon

Dijon

mustard

(Grey Poupon)

sprinkle

celery seed

1

cup

storebought frozen, straight cut

french fries

4

thick slices

from half an Italian, Pane Bello loaf

bread

5

slices

deli sliced

ham

3

slices

thin provolone

cheese

2

slices

vine ripened

tomato
We start by making the slaw. In a bowl we combine the rainbow salad, mayo, vinegar, mustard and stir well. We sprinkle with celery seeds and refrigerate, covered, for half an hour to meld the flavors.
Meanwhile, we preheat the oven to 450° F. We spread the frozen fries on a foil covered cookie sheet. When the oven is ready, we cook for about 15 minutes according to the package directions.
When the slaw and french fries are just about ready, we preheat our electric pancake griddle to 350° F. We lay out the slices of ham. We cook for about 10 seconds and then flip with tongs. We lay the provolone cheese on 3 of the slices and cook for another minute as the cheese melts.
With a spatula, we remove the non-cheesed ham slices to 2 of the slices of bread. We top one with 2 of the ham and cheese pieces, and the other with just one (of course this can be adjusted!).
We pile on the hot fries, slaw, and tomato slice for each sandwich. We serve with the other slice of bread for a hearty sandwich!