Another Fried Chicken Dinner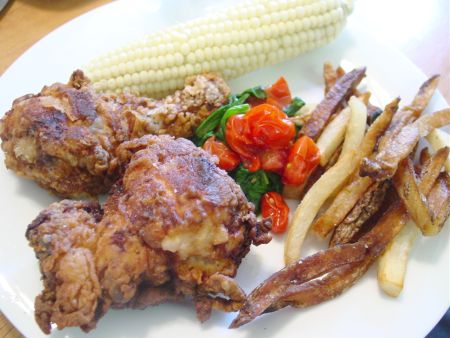 It is spring break for the kids this week. There has been much gallivanting about, meeting friends and visiting various parks in the area. Today is reserved for a special treat—a visit at Aunt Erin's house. For some reason, Erin's house has achieved a special place in our kids' imagination. So naturally, the kids have themselves a grand old time today. And tonight, we eat well.
Robin helped out at church over the weekend. When she was done, one of the ladies asked if any helpers wanted some leftover buttermilk, Robin accepted of course, never wanting to let anything go to waste. Pancakes Sunday and fried chicken tonight means that we waste not, eat well.
We use the same recipe for fried chicken as we have in the past, but we try adding a little Ozark seasoning (Southern blend of black pepper and herbs) from Penzeys. We mix it into both the buttermilk marinade and flour mixture to give the fried chicken an even more Southern taste. The result is wonderful. Even so, further experimentation is required. Such is our burden as we try to find the perfect recipe.