Sloppy Joes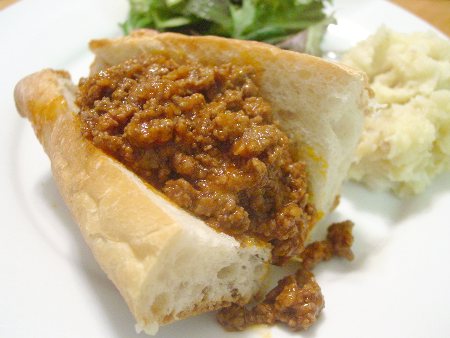 Our children love this recipe for "Sloppy Joes", which they affectionately call simply "Joes". Ground beef is seasoned simply and then mixed with tomato ketchup and chili sauce for a one-pot comfort dinner.
Ingredients
1

teaspoon

Grapeseed

oil

1.30

pounds

ground sirloin, pre-formed hamburgers

beef

1

tablespoon

ground

onion powder

½

cup

ketchup

½

cup

chili sauce

1

tablespoon

Worcestershire sauce

salt & pepper

⅓

cup

water

6

pieces

portions of baguette or hamburger buns

bread
We start by heating a large pan over medium heat. We add the oil and ground beef and break it up in the pan with a wooden spoon.
We cook the meat for 10 minutes, breaking it up and stirring it occasionally. Next, we add the onion powder, stir for a minute, and then add the ketchup, chili sauce, Worcestershire, a teaspoon of salt, a pinch of pepper, and the water. We stir well, lower the heat to medium-low, and continue to cook it for another 10 minutes.
We serve the sloppy joes on a warm baguette or on hamburger buns.