Green Chutney Covered Fish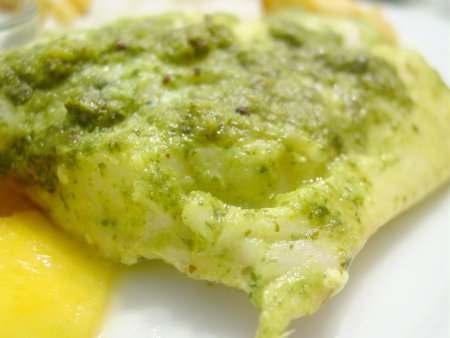 We are inspired by a new Indian cookbook to make a healthy, flavorful baked fish dish. Although there are many ingredients in the green chutney, it comes together with the help of a blender and could be prepared and refrigerated ahead of time. The fish fillets are gently cooked in the green chutney, infusing them with ginger, garlic, and cilantro flavors.
Ingredients
We start by preheating the oven to 450° F. Then we get to work on the green chutney.
With clean hands, we peel the piece of ginger, slice it thinly and then chop. We also smash and peel the garlic cloves and coarsely chop. The ginger and garlic are added to our blender, along with 3 tablespoons of water. We blend, stopping and pushing the ingredients down a couple of times, until we have a smooth paste.
Next, we heat the oil in a skillet over medium heat. When hot, we add the mustard seeds and the red pepper flakes and stir with a wooden spoon. The mustard seeds quickly start "popping" and we add the contents of the blender. We stir and add the turmeric. We continue to "fry" the sauce for a couple of minutes, stirring constantly. We turn the burner off and pull it to the side to cool slightly while we prepare the baking dish.
We spray a 9 by 13 inch baking pan with vegetable spray and get our fish ready. The three fillets are rinsed, cut in half with kitchen scissors, and placed into the baking dish without overlapping. We set the pan aside while we finish the chutney.
We pour the sauce back into the blender and add the cilantro, lemon juice, a pinch of salt, and the remaining 2 tablespoons of water. We blend until smooth.
We pour the chutney over the fillets, cover the baking dish with foil, and cook for 15-20 minutes until bubbling and cooked through.