Yogurt Raita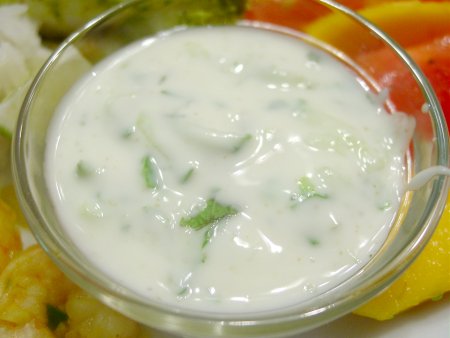 We make a quick Indian-inspired yogurt sauce to complement a spicy meal. Plain yogurt and cucumber is infused with cumin and herbs and refrigerated to meld the flavors.
Ingredients
1

cup

plain, lowfat, organic

yogurt

¼

large

English

cucumber

¼

teaspoon

coarse

salt

¼

teaspoon

ground

cumin

3

leaves

fresh

mint

1

tablespoon

fresh

cilantro
We start by putting the yogurt into a medium bowl. We grate the piece of cucumber, still with the skin and small seeds (it is "seedless"), onto a piece of wax paper with the box grater. We add the 6 tablespoons of grated cucumber to the yogurt. We also stir in the salt, cumin, mint and cilantro.
We cover the bowl with plastic wrap and refrigerate for a half an hour to allow the flavors to meld.